You've mastered the basics: you've honed your swing, familiarized yourself with the course, and now you're looking to improve your game without breaking the bank. You've moved past the days of picking up any old ball you find on the course, and you might already have a favorite brand—but are you getting the best value for your money?
To help you find the perfect golf ball that won't empty your pockets, I've delved deep into the world of affordable golf balls tailored for players like you. After thorough analysis and testing, I've pinpointed the five best budget golf balls that promise to enhance your game without denting your wallet.
Prepare for longer drives, more accurate putts, and the satisfying sound of a ball perfectly struck, all while saving some green.
---
NOTE // The details in this guide aim to be as precise as possible. Nonetheless, it's advisable to verify the latest updates on golf websites or contact them directly for the most recent information.
PURCHASES // This guide may have links for buying your balls. By buying through these links, we may earn a small commission, at no extra cost to you. Thank you for your support – Neil.
LAST UPDATE: November 1, 2023
Best Cheap Golf Balls Roundup
What makes the best cheap golf ball?
A golf ball is a pivotal component in your golfing arsenal. It holds the potential to influence your shots, trajectory, and overall performance on the course. Every golfer, whether a newbie or a pro, acknowledges the significance of selecting the right ball for their game. It's the sphere that carries all your hard work from the tee to the hole. The key is to find one that enhances your gameplay and doesn't empty your pockets.
But what's vital in a golf ball for budget-conscious golfers, specifically? You don't want a ball that's too basic, compromising on performance—something that might hinder your progress later on. Moreover, the price point should provide value, giving you the best features without costing a fortune. And most importantly, you need a ball that offers consistency, durability, and the right feel to improve your shots.
Given these criteria, here's what I focused on while assessing the best cheap golf balls:
Performance & Feel: I sought golf balls that deliver a consistent flight, responsive feel, and are forgiving on mis-hits.
Durability: Central to value is how long the ball lasts. It's essential that while being budget-friendly, the ball should withstand the rigors of the game.
Spin & Distance: For any golfer, achieving the right balance between spin and distance is crucial. I evaluated balls that promise both without burning a hole in your pocket.
Compatibility with Clubs: A golf ball should complement the clubs you use. It's beneficial if the ball can perform well with a variety of clubs, maximizing your game's potential.
Cost-effectiveness: I scrutinized the price vs. performance ratio. It's not always about the cheapest; it's about getting the most bang for your buck.
During my exploration, I researched over 50 budget golf balls and thoroughly tested the top 20 contenders. This involved playing multiple rounds, assessing their performance in various conditions, and understanding their wear and tear. I also consulted with fellow golfers to gauge their experiences and feedback. By the end of this rigorous process, I had a clear picture of the 5 balls truly stood out in the realm of affordability without compromising on quality.
1. Best Overall Cheap Golf Ball
Callaway Golf 2023 Supersoft Golf Balls
The Callaway Golf 2023 Supersoft Golf Balls stand out as the top choice for those who desire a mix of affordability, quality, and performance. Their soft touch, combined with an impressive range, positions them as a front-runner in the market.
Pros:
A Real Bargain Superstar: Out of all the budget-friendly golf balls I've tried, these take the crown. The soft touch gave me the control I never knew I wanted.
Zoom Zoom on the Fairway: These balls have some oomph. My shots went farther than I expected, and that was a sweet bonus.
Built to Last: I've lost more balls to water hazards than I care to admit, but for those that survived my mis-hits, the robust hybrid cover had them looking as good as new.
Cons:
A Bit Slippery on the Greens: I love the soft touch, but that spin control around the greens? Had a few "Oops!" moments there.
Not For the Speed Demons: A pal of mine, who has a swing speed that could generate wind, felt these weren't quite up to his pace.
Premium Perks Missing: While they're great for their price, they don't quite have all the bells and whistles of the pricier balls I've peeked at.
Having personally tried the Callaway Golf 2023 Supersoft Golf Balls, their prowess on the field was evident. The HyperElastic SoftFast Core yielded a remarkable boost in ball speed, adding valuable yards to my drives. The gentle feel not only enhanced my play experience but also granted superior control.
However, some may argue that its greenside spin control doesn't quite measure up to its pricier peers. Yet, its cost-effectiveness makes the Callaway Supersoft Golf Balls an attractive deal for those prioritizing range and tactile satisfaction.
The ball's hybrid shell left me appreciating its enduring quality, even after extensive gameplay. While it might not meet the precision standards of seasoned players, it serves as a splendid option for those eyeing value without compromising quality. In summation, for golfers seeking a budget-friendly yet dependable ball, the Callaway Golf 2023 Supersoft Golf Balls come highly endorsed.
2. Best Budget Golf Ball for Beginners
Nitro Golf Crossfire 45 Ball Pack
For novice golfers looking for a combination of value and decent performance, the Nitro Golf Crossfire 45 Ball Pack is a commendable choice.
Pros:
A Gem for Rookies: It's rare to find a ball that's both budget-friendly and delivers top-notch performance. The Nitro Golf Crossfire is a game-changer in this respect. it ensures early success and boosts confidence with every swing.
Titanium Treasure: I've heard some golf buddies chat about core materials, but feeling the difference with the titanium core in these was a real treat.
Tough as Nails: Ever hit a tree full swing? I have. Embarrassing, yes, but the DuPont Lithium Surlyn cover? Not a scratch!
Cons:
Not Quite the Feather Touch: Around the greens, I had to adjust my expectations a bit. They didn't have the gentle touch of some of those pricey balls I've tried.
Veteran Golfers Might Veto: Shared a few with an old-timer at the club, and he wasn't as thrilled. Probably not the top choice for the seasoned pros.
Green Grumbles: Tried some putts and chips, and I had to work a bit harder to get the feel right.
During a recent game, I had the chance to try out the Nitro Golf Crossfire balls and found their performance surprisingly good. As someone who values cost-efficiency, these balls struck the right chord, providing a fair balance between expenditure and performance. The robust two-piece titanium core ensured a notable energy transfer, leading to commendable distance and shot precision.
What caught my attention was the ball's resilience. The DuPont Lithium Surlyn cover remained sturdy throughout the game, demonstrating minimal wear after several hits. Furthermore, the ball's aerodynamic dimple pattern facilitated loftier and farther-reaching shots.
That said, when compared to pricier alternatives, the Nitro Golf Crossfire balls fell a tad short in terms of green-side touch and feel. The subtle nuances and tactile feedback offered by top-tier balls were somewhat muted in this cost-effective variant.
Wrapping up, for those new to golf or casual players looking for a budget-friendly yet competent ball, the Nitro Golf Crossfire 45 Ball Pack stands as a worthy contender. While they may not rival the finesse of premium balls, their sturdiness and overall performance make them apt for beginners.
3. Best Cheap Golf Balls for Distance
TaylorMade 2021 Distance+ Golf Balls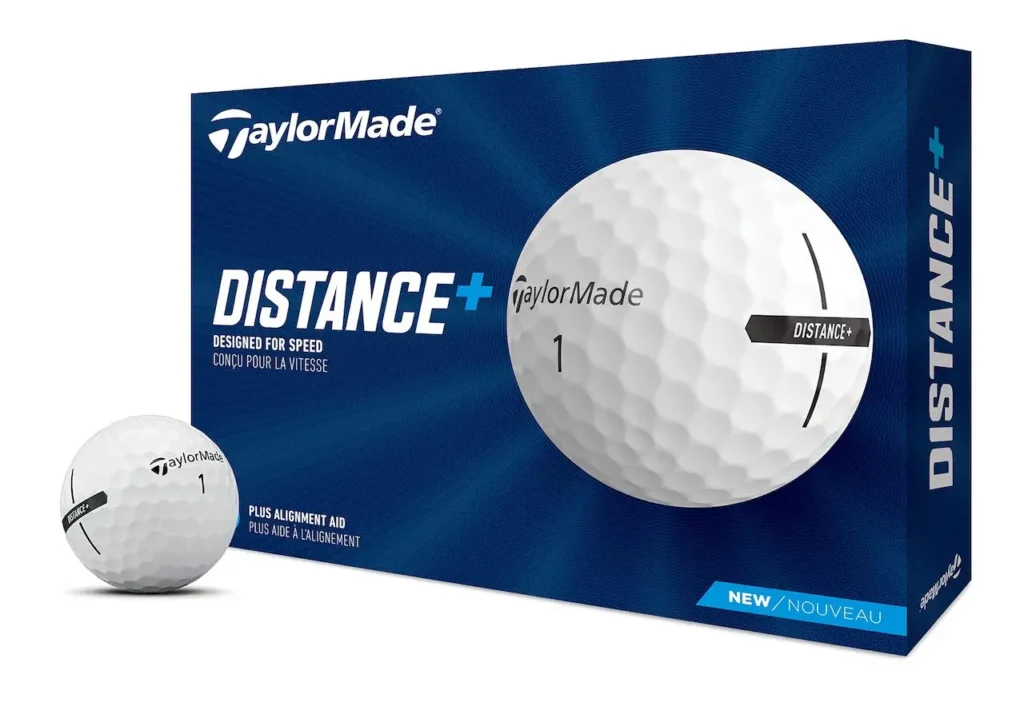 These TaylorMade Distance+ Golf Balls are a great choice for golfers seeking distance and performance on a budget.
Pros:
Rocket Launcher: The first time I used these, I swear the ball nearly went into orbit. That React Speed Core isn't just marketing – it genuinely gave my shots some serious zip.
Sky-Soaring Design: The 342 dimples might seem like a random number, but whatever magic they're doing, my balls seemed to glide through the air with a bit more grace.
Wallet-Friendly: My golf buddy couldn't believe the price I snagged these for. And despite my, let's say, "less than perfect" swings, these balls held up impressively.
Cons:
Spin? What Spin?: Trying to make the ball dance around the greens was a challenge. They're not the best if you're looking for those fancy spin shots.
Plain Jane in the Looks Department: I like to sometimes play with colored balls for fun, but the options here were somewhat limited.
Pros Might Pause: A friend of mine, who's way better at golf than I am, tried them and felt they might not be the best fit for those with advanced skills.
I recently played a round with these TaylorMade Distance+ Golf Balls and I must say, they really exceeded my expectations. As an avid golfer on a budget, finding a ball that provides both distance and durability has always been a challenge.
The React Speed Core of these golf balls delivers exceptional velocity, helping me achieve longer drives than I previously thought possible. In addition, the 342 Aerodynamic Dimple Pattern does an excellent job of reducing drag and keeping the ball stable and straight in flight.
However, they might not be the best choice for golfers who value maximum spin control over distance. I noticed that while the balls felt relatively soft around the green, they did not provide as much spin as some of the more premium balls on the market.
In conclusion, the TaylorMade 2021 Distance+ Golf Balls are an excellent option for budget-conscious golfers who prioritize distance and performance. While they may not satisfy the needs of more advanced players, they are a fantastic choice for those looking to improve their game without breaking the bank.
4. Best Inexpensive Golf Balls for Durability
Titleist DT TruSoft Golf Balls
The Titleist DT TruSoft Golf Balls are an excellent choice for golfers in search of both affordability and durability.
Pros:
Distance on a Dime: On a weekend golf trip, I grabbed these on a whim due to forgetting my regular set. Expecting little because of their cost, I was taken aback by the impressive distance they delivered.
Consistent Performer: On a day when my swing was all over the place, the TruSoft core in these balls was forgiving and kept my shots relatively straight.
Survivor of My Mishits: I once unintentionally smacked one onto a gravel path (yes, I have those moments too). I fully expected it to be scuffed beyond use, but its resilient cover barely showed a mark.
Cons:
Greenside Challenges: When I was trying to gently roll the ball near the hole, it felt a tad different from the premium balls I've used.
Not a Distance King: During a long-drive contest with friends, my shots with the TruSoft didn't quite make it to the top distances.
A Bit Tricky to Curve: I tried some fancy shots to swerve the ball around a tree. Let's just say it didn't always go as planned.
During a recent golfing session, I decided to give the Titleist DT TruSoft a try, and the results were great. Always keen on finding value-driven options, these balls provided a good blend of cost-effectiveness and performance. The TruSoft core ensured a consistent energy transfer, delivering respectable accuracy and distance from the tee.
One aspect that genuinely impressed me was the longevity of the Titleist DT TruSoft. Even after two rigorous 18-hole rounds, the advanced cover showed little to no signs of wear. Additionally, its design supports loftier and extended shots, a feature any golfer would appreciate.
However, when it came to short game nuances, I did sense a difference when juxtaposed with top-tier balls. The finesse and immediate feedback offered by luxury balls seemed slightly subdued with this more affordable option.
In summary, for golfers on a budget but unwilling to compromise on durability, the Titleist DT TruSoft Golf Balls are a commendable option. They might not match the elite responsiveness of high-end balls, but for recreational or novice players, they offer ample performance and enduring quality.
5. Best Affordable Golf Ball for Cold Weather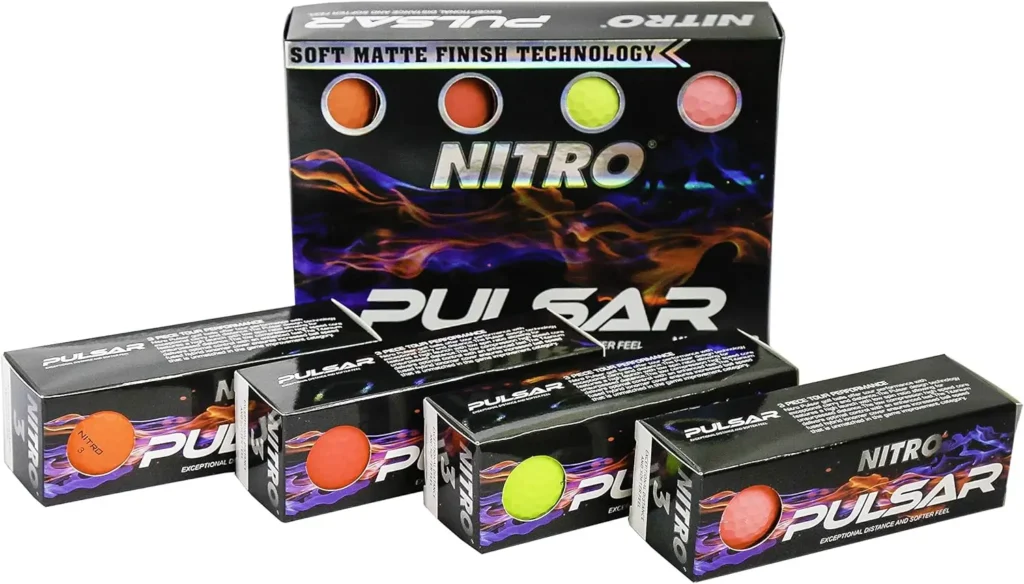 The Nitro Pulsar Golf Balls stand out as a top pick for golfers braving cold weather conditions.
Pros:
Chilly Weather Champion: On one particularly frosty morning, I noticed other balls becoming hard and losing their bounce, but the Nitro Pulsar's unique core kept its springiness.
Tough as Nails: I remember accidentally smacking one against a tree (don't ask). To my surprise, it emerged with barely a scratch, thanks to its resilient cover.
Wallet-Friendly: The first time I bought these, I was skeptical because of the attractive price. But boy, did they deliver value!
Cons:
Tricky on the Green: I struggled a bit to control the ball when I was close to the hole.
Not the Longest Flight: In a friendly competition, my shots with the Pulsar didn't travel as far as with some other balls.
Less Control in the Air: I tried to make the ball curve in a specific way during a tricky shot, but it didn't quite do what I wanted.
I recently took the Nitro Pulsar balls out for a spin during a chilly morning round and was genuinely impressed by their adaptability. As someone who is always on the hunt for balls that can weather diverse conditions, these stood out as an excellent cold-weather companion. The high-energy core was particularly beneficial, ensuring consistent shots even in the cold, where other balls might falter.
The durability of the Nitro Pulsar, even in less than ideal conditions, was another highlight. After an extended game, the resilient cover showed minimal wear, which speaks volumes about its quality. Additionally, its design promotes sustained flight trajectories, a boon in cold conditions where ball flight can be unpredictable.
However, when it came to more delicate shots, particularly around the greens, I felt a slight disparity when compared to some of the high-end alternatives. The premium balls offer a touch more precision and feedback, which the Nitro Pulsar might occasionally miss.
To sum it up, if you're a golfer who often finds themselves playing in colder climates, the Nitro Pulsar Golf Balls are a worthy addition to your bag. They might not have the same finesse as some of the luxury options, but their performance in cold weather and lasting durability make them a standout choice for the conditions.
Conclusion
If you're planning on buying value golf balls, the right choice hinges on specific criteria: touch sensitivity, range, durability, and price. The Callaway Golf 2023 Supersoft Golf Balls are the best overall, boasting a remarkable balance of soft touch and range, backed by resilience.
For beginners, the Nitro Golf Crossfire 45 Ball Pack is ideal, being cost-effective while offering satisfactory performance. If distance is your primary aim, the TaylorMade 2021 Distance+ Golf Balls are unmatched, though they trade-off some spin control. On the other hand, the Titleist DT TruSoft Golf Balls prioritize durability and consistent play.
When selecting the right golf ball, prioritize your needs. If you value touch and control, opt for the Callaway Supersoft. For those starting their golf journey, Nitro Crossfire is the way to go. TaylorMade should be the choice for maximizing drive distances, while the Titleist DT TruSoft is for those who value longevity in their golf balls. Make a choice based on these criteria and enhance your golfing experience.
Frequently Asked Questions
What are the most affordable golf balls for high handicappers?
As a high handicapper, I recommend golf balls like the Callaway Supersoft, Wilson Ultra 500, and the Srixon Soft Feel. These options are inexpensive while offering a soft feel and adequate distance, which can help you improve your game.
What are the best inexpensive golf balls for mid handicappers?
As a mid handicapper, my top choices for budget golf balls include the Srixon AD333, Titleist TruFeel, and the Bridgestone e6. These balls balance distance, feel, and control, all essential factors in helping players transition from average to advanced.
How do cheap golf balls perform compared to premium balls?
In my experience, cheap golf balls may not have the same level of performance as premium options, such as spin control and feel around the green. However, budget balls are still beneficial for golfers looking to improve their game without breaking the bank.
Where can I find good quality golf balls in bulk?
I've found that online retailers like Amazon, Golf Town, and Rock Bottom Golf frequently offer good deals on bulk purchase of golf balls. Keep an eye on sales to maximize your savings while stocking up.
What factors should I consider when buying budget golf balls?
When purchasing budget golf balls, I suggest considering factors such as distance, feel, durability, and performance in different conditions. Additionally, read reviews and seek advice from experienced golfers to make an informed decision.