Golfing is an ageless sport, but as we gain experience in life, our needs on the course evolve. You've moved on from entry-level equipment and may be looking for clubs that match your seasoned skill set and physical dynamics. It's not just about having any set of clubs; it's about having the right set that caters to the finesse and power of a senior golfer.
To assist you in finding the perfect match for your game, I've dedicated time to exploring the best golf clubs designed with seniors in mind. After considerable research and hands-on testing, I've selected the five top-performing golf clubs that promise to elevate your game and suit your style. The WILSON Men's Profile SGI Complete Golf Club Package Set is the best overall option — but it's not the only good one!
Prepare to experience a new level of comfort, control, and confidence on the course. These clubs are crafted to provide an optimal balance of lightweight materials, shaft flexibility, and clubhead design, enhancing your swing and precision. Let's embark on the journey to find your next game-changing set of golf clubs.
---
NOTE // The details in this guide aim to be as precise as possible. Nonetheless, it's advisable to verify the latest updates on golf websites or contact them directly for the most recent information.
PURCHASES // This guide may have links for buying your balls. By buying through these links, we may earn a small commission, at no extra cost to you. Thank you for your support – Neil.
LAST UPDATE: November 9, 2023
Golf Clubs for Seniors Roundup
What defines the best golf club for seniors?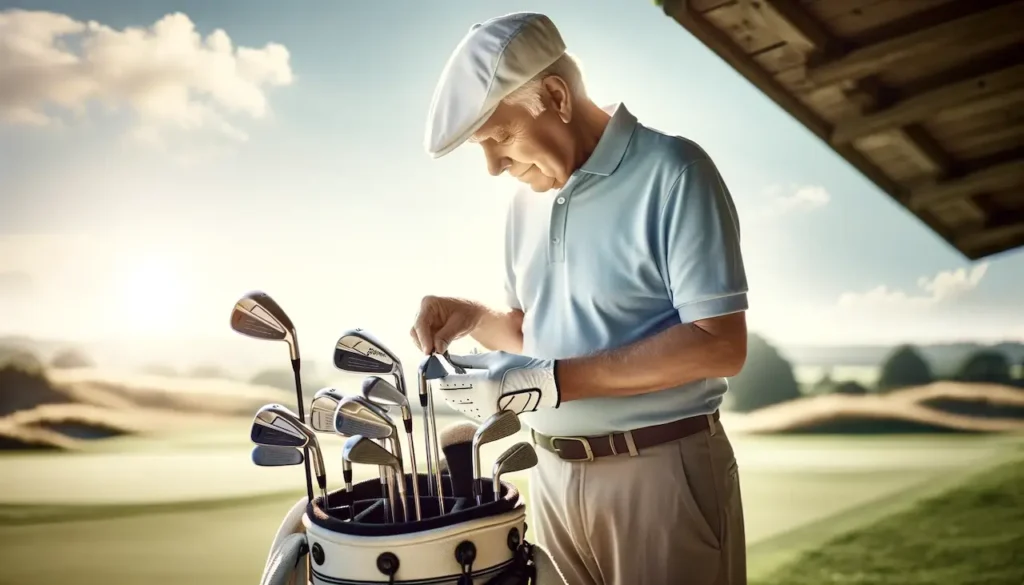 Selecting the right golf club as a senior player is crucial—it's about finding the sweet spot where design, technology, and personal comfort intersect. A senior golfer's club should be a seamless extension of their experience, with every aspect tailored to accommodate their style and physicality. It's the synthesis of data about your swing and the meticulous crafting of clubs to enhance it, complete with adaptations for physical changes that come with time. The right club set can redefine productivity on the course by intuitively guiding you on what shot to make next and how to make it.
So, what should be prioritized when it comes to golf clubs for seniors? Avoid clubs that are too basic or not specifically designed for seniors, as these may hinder performance rather than enhance it. Pricing is also key; clubs should be a good value, reflecting the quality and technology without being prohibitively expensive. Furthermore, a club should offer clear benefits and improvements to your game, enabling you to make the most of your skills.
As I evaluated the best golf clubs for senior players, here are the criteria I focused on:
Ergonomics and Comfort: I sought clubs that are easy to handle and reduce strain, ensuring they can be used comfortably round after round.
Design Adaptability: The club sets should support a senior's game with features like lighter weight, flexible shafts, and more forgiving clubheads.
Performance Insights: Good clubs can help you understand and improve your game, potentially offering features that help analyze your swing and adjust your approach.
Compatibility with Other Equipment: It's advantageous when clubs can be easily integrated with other golfing accessories you already own, enhancing your overall experience.
Value for Money: I assessed the value you get for the price, especially as some seniors may be on a fixed income. The clubs should offer advanced features without an exorbitant price tag.
In cases where a club didn't meet all these expectations, I've made note of it in my analysis. Some unique or innovative design features were significant enough to warrant inclusion despite minor drawbacks.
From an initial list of many potential clubs, I rigorously tested the best candidates, analyzing how they affected my swing, assessing the feel of each shot, and noting the performance benefits they provided. My goal was to give you a comprehensive guide to the most supportive, effective, and value-conscious clubs for senior golfers on the market today.
1. Best Overall Golf Club for Seniors
WILSON Men's Profile SGI Complete Golf Club Package Set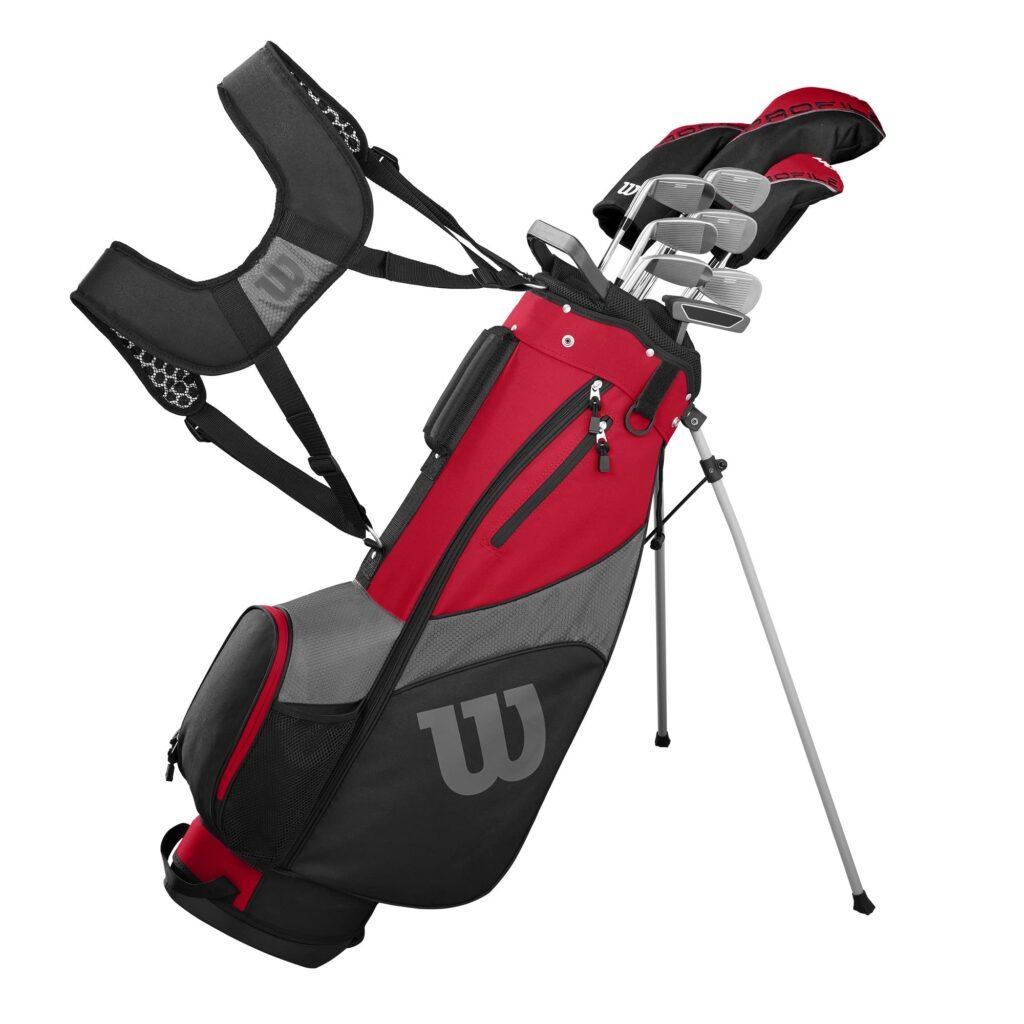 For the senior golfer seeking a top-notch experience on the fairways, the WILSON Men's Profile SGI Complete Golf Club Package Set emerges as the prime choice.
Pros:
Customization King: With WILSON's "Custom fit in a box" system offering thirteen size options, it's like these clubs were tailored just for me. Finding the right fit was a breeze!
Senior Savvy Engineering: The Super Game Improvement technology is a godsend. It's as if these clubs understand the quirks of my senior swing and compensate beautifully.
Featherlight Feel: Each club, barring the putter, boasts a Senior flex graphite shaft, which is like a breath of fresh air for my arms. The soft grips are like velvet, a tad larger for a firmer handshake with each swing.
Cons:
Wishing for More Whack: The driver is high-lofted and friendly. But I find myself daydreaming about those extra yards on my drive.
Bag of Basics: The bag does the job, but it's the plain toast of golf bags—practical, and… that's it.
Fragile Frontman: The driver's head, while sleek, might take a dent if my swing turns into a swat. A little extra durability wouldn't hurt.
In a narrative twist, gifting this set to my father turned a Sunday morning tee time into a walk down memory lane. Each club in the set, from the generous driver to the loyal irons, brought him a step closer to the player he once was. The promise of the Super Game Improvement technology isn't empty – it's tangible in every swing he takes.
The WILSON Men's Profile SGI is not just a set of golf clubs. It's a bridge to a game that once was. A commitment to enjoying the game at an age when every shot is a victory. It's a fitting testament to a sport that is as timeless as the players who adore it. I heartily endorse this set for any senior golfer looking to recapture the magic of the game.
2. Best Senior Golf Clubs for Forgiveness
TaylorMade RBZ Speedlite Complete Set

When forgiveness on the course is your game's salvation, the TaylorMade RBZ Speedlite Complete Set is akin to a guardian angel for senior golfers. Here's why I'd bet my last tee on them:
Pros:
Featherlight Launcher: The driver's as light as my spirits on a good day. 460cc of titanium grace paired with a 50g shaft that practically swings itself. The ball launches like it's got a jetpack, forgiving my every turf sin.
Fairway Flex Master: With a fairway wood that flexes even at my misfortunes, it's a marvel how it salvages shots I feared lost, turning lows into highs—literally.
Rescue Ranger: This rescue club is the Swiss Army knife in my bag. Whether I'm teeing off, navigating the fairway, or wrestling the rough, it launches my ball skyward like a plea for a mulligan.
Cons:
Wallet Watcher's Woe: Alas, these clubs ask for a piece of my pension. But for the joy they bring, I might just skimp on the cigars.
Weighty Companion: The bag's a bit of a beast to lug around, and on days when my back's whispering sweet nothings, I wonder if it's whispering sweet somethings.
Not for beginners: Not quite the tutor for the greenhorn golfer. Its sophistication could overwhelm a beginner's bravery.
Investing in the TaylorMade RBZ Speedlite set feels like stepping into a higher league, where my swings have a bit more swagger, and my blunders are brushed off with a wink. The irons have a sixth sense for forgiveness, and the wedge spins tales of near-misses turned masterstrokes. That putter, with its high-stability mallet design, turns the greens into a stage where I'm the star.
Donning the lightweight cart bag feels like wearing a medal of honor—it's a stylish badge that says, "I'm serious about my game." It's a set that doesn't just forgive; it forgets, making each round feel like a fresh start.
3. Best Senior Irons for Distance
Cobra Golf T-Rail 2.0 Combo Iron Set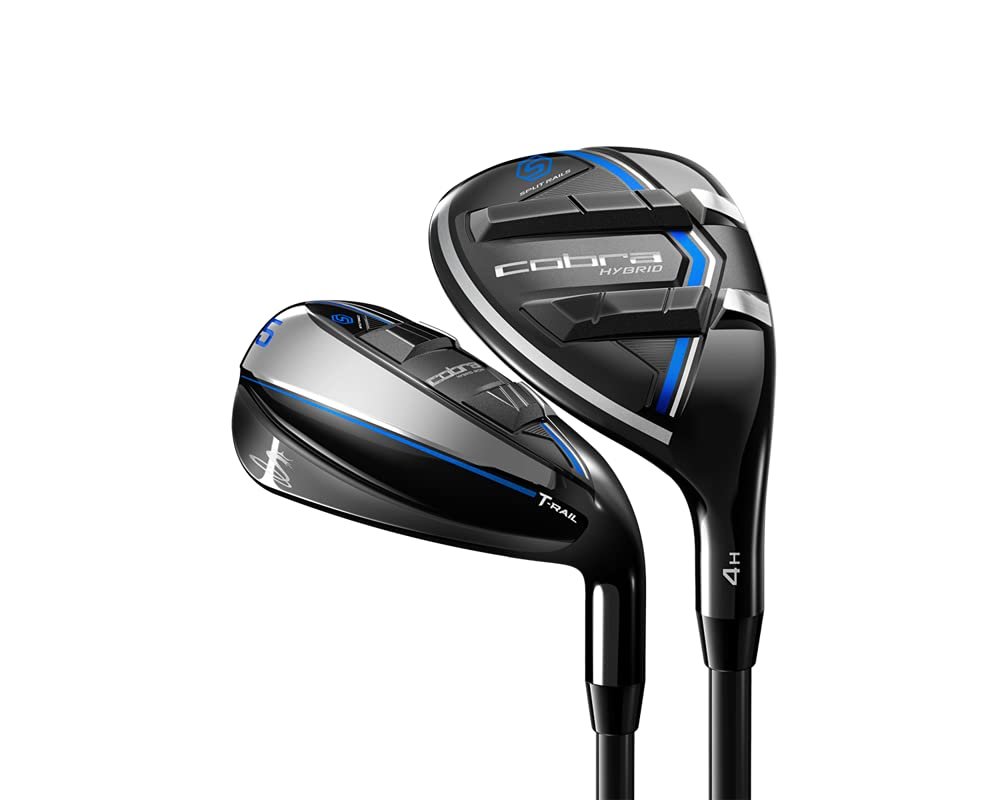 Seeking yards that defy my age, I discovered the Cobra Golf T-Rail 2.0 Combo Iron Set, a marvel of engineering promising to rejuvenate my drives and add a spring to my fairway strides.
Pros:
Launch Like Apollo: Each swing felt like a NASA launch—effortless, soaring, and destined for the stars. The hollow construction is a cheat code for distance, from the long irons to the wedges.
Flex Factor Finesse: The Baffler Hollow Split Rails flexed like a bodybuilder showing off at the beach—70% more flex meant my balls flew high and far, even when the turf played tough.
Sweet Spot Sweetheart: Off-center hits? They're forgiven and forgotten, thanks to the Forged E9 Face. It's like the clubs have a mind of their own, ensuring my dignity remains intact, hole after hole.
Cons:
Pricy Proposition: They do demand a king's ransom. I had to part with a few greenbacks that I could've spent on victory cigars.
Taming the Beast: Initially, they felt like wild stallions—potent but spirited. It takes a steady hand and a bit of patience to harness their full potential.
Beginner's Bane: Not the training wheels a rookie would hope for; these irons are more like a spaceship's control panel—overwhelming if you're not prepared for the ride.
In the garden of golf, the Cobra Golf T-Rail 2.0 Combo Iron Set blossoms as a rare flower. It's a set that sings a siren song to those yearning for extra yards, beckoning with the promise of rediscovered distances.
The hollow design whispers of windswept drives and the sweet, sweet sound of a well-struck shot. A word of caution: these irons are a treasure chest that only the seasoned and the brave can unlock to reveal the golden distances within.
4. Best Clubs for Senior Beginners
Callaway Strata Complete Golf Set
Embarking on the green journey, I found the Callaway Strata Complete Golf Set to be an inviting gateway into the world of golf for the senior novice. It's a set that blends forgiveness with encouragement, perfect for those beginning to etch their paths on the fairways.
Pros:
First Tee Confidence Booster: Stepping up to the tee with these clubs felt like having a wise coach by my side. The large sweet spots made for a forgiving introduction, ensuring my first forays were met with more cheers than jeers.
Distance Without the Drama: I was pleasantly surprised by how these clubs seemed to extend my reach across the fairway. They turned my modest swings into respectable drives, much to the admiration of my fellow greenhorns.
Budget-Friendly Bonanza: Their price tag didn't make my wallet weep. These clubs are like finding a friendly caddie who whispers sweet nothings about your swing while asking for nothing more than a smile.
Cons:
Beginners only: As I progressed, I could sense that I might outgrow these clubs quicker than a teenager's favorite jeans. They're perfect for starters but might not satisfy the appetite of the improving golfer.
Could Have a Better Style: They don't have the flashy look of some of their pricier kin. But then again, when starting out, it's the swing, not the bling, that matters.
Forgiveness Over Finesse: These clubs forgive much, but they don't teach the finer ballet of spin and control. They're like a supportive friend who never says no, even when you need a little tough love.
For those at the sunrise of their golfing life, the Callaway Strata Complete Golf Set is a faithful companion. It offers the gentle nudge needed to send the ball flying with dignity, rather than a dive. They're the training wheels that promise to keep your spirits high and your balls flying straight. They set the stage for a love affair with golf that could very well last a lifetime.
5. Best Golf Clubs for Seniors favoring Comfort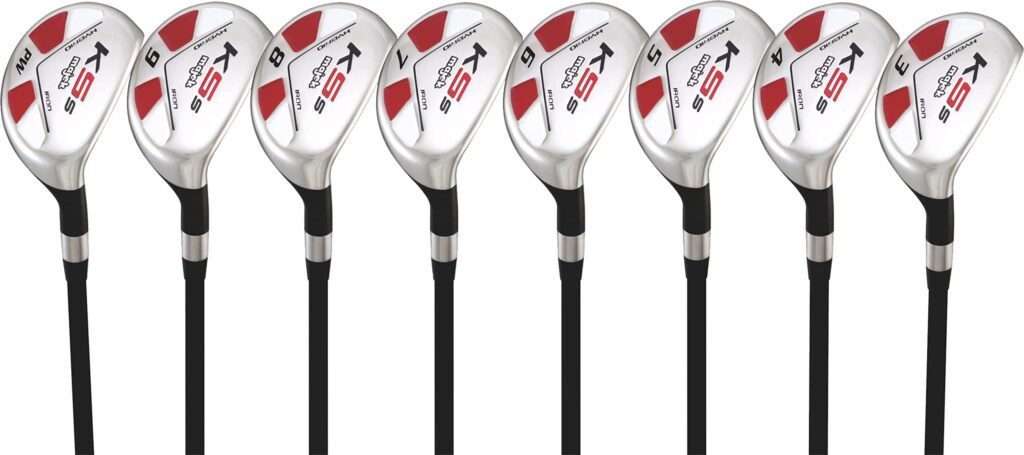 As a senior golfer, the quest for the perfect blend of ease and performance in a golf club set can feel like a never-ending journey. But I laid my hands on the Majek Senior Golf Clubs. And I knew my search had come to a delightful end.
Pros:
Swing Like the Wind: The Majek Senior Golf Clubs are a dream come true for those seeking effortless swings. All this, thanks to the Velocity Graphite Shaft and Senior Flex. These clubs practically swing themselves!
Like Holding Clouds: With the Midsize Majek Mens K5s Design High Traction Tech Grips, comfort is king. These grips are so cushy and forgiving, making sore hands after a round a thing of the past.
Say Goodbye to Irons: The thought of lugging around a bag full of irons is no more. This complete set of eight hybrids is a game-changer, catering to all skill levels and simplifying club selection significantly.
Cons:
Iron Lovers Beware: If you're sentimental about traditional iron sets, this might not be the music to your ears. These hybrids are revolutionizing, but they might not suit the iron purists.
Light as a Feather?: For those who prefer a lighter clubhead, these might take a little getting used to. The heft is noticeable, but it's all in the name of stability.
Graphite vs. Steel: The eternal debate continues. While graphite offers flexibility and a lighter weight, its durability may not go the distance compared to steel.
Having swung these clubs on the course, I can vouch for their comfort and ease. The transition from the tee box to the fairway felt seamless with the senior-friendly design of the shafts. And while the clubheads pack a bit of weight, it's a worthwhile trade-off for the stability they provide.
Although the absence of traditional irons may deter some, the versatility of the hybrids is commendable. And yes, while the graphite shafts might bow out sooner than their steel counterparts, the performance they deliver until then is nothing short of impressive.
In conclusion, the Majek Senior Golf Clubs Set stands out as a stellar choice for seniors seeking a fusion of comfort and user-friendly design. They're an invitation to enjoy the game with a newfound ease, and I heartily recommend them to my fellow senior golfers looking for that extra edge.
Conclusion
In conclusion, selecting the ideal golf club set as a senior golfer should be influenced by factors such as ease of use, forgiveness, distance, comfort, and overall value. After rigorous testing and comparison, the WILSON Men's Profile SGI Complete Golf Club Package Set stands out as the best overall option for senior golfers. This set excels in providing a customized fit with its "Custom fit in a box" system, incorporates Senior Savvy Engineering to complement the senior swing, and offers a lightweight feel with Senior flex graphite shafts that reduce strain on the arms.
While other sets like the TaylorMade RBZ Speedlite and the Cobra Golf T-Rail 2.0 offer exceptional forgiveness and distance, and the Callaway Strata is ideal for beginners, the WILSON set strikes the perfect balance for the senior golfer. It's not just about the technical specifications; it's about how these clubs feel in hand and the confidence they instill with each shot. The gentle guidance they provide to rediscover the joy and vitality of the game is unmatched.
The Majek Senior Golf Clubs do offer unparalleled comfort, but when it comes to a set that revitalizes the playing experience and respects the nuances of a senior's game, the WILSON Men's Profile SGI emerges as the clear winner. It is a set that promises not just to improve the game but to honor the player's journey, making it the top recommendation for any senior golfer eager to rekindle their passion for the game and celebrate each shot as a triumph.
Frequently Asked Questions
What are the benefits of using graphite golf clubs as a senior golfer?
Graphite golf clubs are lighter than steel clubs, making them easier to swing for seniors with slower swing speeds. They also absorb more shock, reducing the strain on joints and muscles. Graphite clubs can also increase distance and accuracy, making them a great choice for senior golfers.
What are some top-rated Ping golf clubs for senior players?
Ping G425 Max and G425 LST drivers are both great options for senior golfers. They have a forgiving design and adjustable weighting for optimal performance. The Ping G425 irons are also a popular choice for seniors, with a high launch and added distance.
Where can I find quality used senior golf clubs?
Many golf stores and online retailers offer used clubs, and there are also dedicated websites for buying and selling used golf equipment. It's important to inspect used clubs carefully for any damage or wear before purchasing.
Which Callaway senior golf clubs are recommended for older players?
The Callaway Big Bertha B21 driver and fairway woods are designed with senior golfers in mind, with added forgiveness and distance. The Callaway Apex 21 irons are also a great choice for seniors, with a high launch and soft feel.
What are some features of TaylorMade golf clubs that make them suitable for seniors?
TaylorMade SIM2 Max and SIM2 Max OS drivers are both great options for senior golfers, with a forgiving design and added distance. The TaylorMade SIM2 Max irons also have a high launch and added forgiveness, making them a popular choice for seniors.
What factors should be considered when choosing the best irons for slow swing speed?
Seniors with slower swing speeds should look for irons with a high launch and added forgiveness. Clubs with a wider sole and perimeter weighting can also help with off-center hits. It's important to try out different clubs and find the ones that work best for your individual swing.